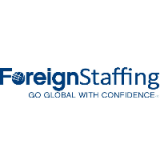 Foreign Staffing Inc.
Telecomunication | California, USA
Foreign Staffing, Inc., is a global leader in Multilingual, International Staffing and International Recruiting anywhere in the world. Foreign Staffing provides its comprehensive services as a Retained Based Search firm. We facilitate the entire recruitment effort from startup until the candidate starts working. Foreign Staffing utilizes its 25-step Foreign Advantage Candidate Screening process (FACS)™ which is unparalleled in the industry for finding the best candidates for any job anywhere in the world.

With over 20 years of International business experience, the company has become more than just a staffing firm. It can also provide and administer foreign assessments for employees in 25 languages, foreign background checks, foreign language testing, foreign cultural training, foreign language training, foreign immigration and foreign relocation services. It can also assist with global payroll outsourcing in over 150 countries.

Learn More About Us - Here

Call 1-855-JOB-GLOBAL or Email us at staffing@foreignstaffing.com or Fill Out Our Contact Form- Here

Let Foreign Staffing, Inc. Help You Go Global With Confidence ®
Industry
Telecomunication
Location
Greenville, SC
California, USA.

See larger map